A former nurse at the Kootenai County Jail suspected in a series of bank robberies while wearing a variety of wigs confessed to the crimes after her arrest, according to court documents.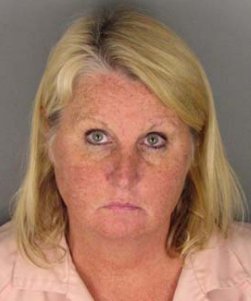 Cynthia Van Holland, 47, accused of being the "Bad Hair Bandit," remains in custody at the Placer County Jail near Sacramento, Calif., where a federal hold was recently implemented that prohibits her from leaving jail on bond.
Her appearance in U.S. District Court in Sacramento has not yet been set. . . .
According to an affidavit filed in federal court in Sacramento, Van Holland confessed to the 20-robbery, four-state spree and described each incident - including a May 9 robbery in Spokane - in an interview with an FBI agent at the Placer County Jail the day of her arrest.